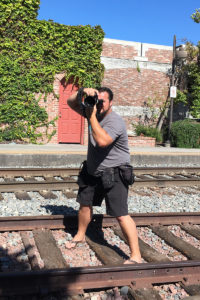 Joe was born and raised in San Clemente, California. If there is anything to know about San Clemente, besides home of the Western White House during the Nixon presidency, it is the laid-back lifestyle of South Orange County. Joe personifies that lifestyle every day in his work as a professional photographer.
Having Joe as your photographer, you are getting a skilled and talented craftsman with more than 20 years experience who has photographed over 600 weddings. With an easy-going and calming approach to keep everyone comfortable, Joe's goal is to incorporate natural poses while capturing sharp images. Joe has created a following and style all of his own.
In his words…
As a wedding, portrait, food and lifestyle photographer based in historic downtown San Juan Capistrano, I enjoy the challenge of each photo shoot and love what I do. I started shooting weddings shortly after high school and have honed my skills over the past 20 years. One of the biggest compliments I get from brides is "After spending my wedding day with you (Joe), I feel like you could be my brother." I get told that often. Enjoy my images and don't forget to call me to set up your bridal consultation or even if you just have a photography question, I am always here to help.
Please call/text or email if you have any questions
949-412-1924